It's winter time here in Peru as you may already know, and I've been freezing more than normal. I have decided that I need, with desperation a pair of leathered gloves and I am in the search for a good pair. I loved the way Kim Kardashian rocked them last fall/winter and they are the best accessory to keep your hands warm and cosy, because I hate when my hands are like little ice cubes and I feel any minute they are going to start cracking and my fingers might fall off.
I searched in the Burberry site for gloves and I found a pair that I absolutely loved and had all the characteristics I was Looking for.
But I am not splurging on something like that but just found them so pretty! they are expensive and I am no working girl for the moment so I am not asking my parents to spend that significant amount of money for a pair of gloves, it would not make sense at ALL.
They come in two colours, burgundy and black and they cost US$ 375.00. which is ridiculous for a pair of gloves but If I've had the money I would totally spend on them just as a treat to myself :)
I found this amazing pair of gloves at an online store called ShopNBC, and I think I might purchase them, they are leather and have really nice detail-like stitches an some buttons. They come in 3 different colours, pink, brown and black and are just so cute that I am going bananas over them.
What I liked the most was the price tag on them, they were originally $85. then got marked down to $29.75 and now they are only $18.78 which is a really good deal. If you want to check this amazing deal click
here
to be redirected to their site.
Here is a picture of the beautiful gloves: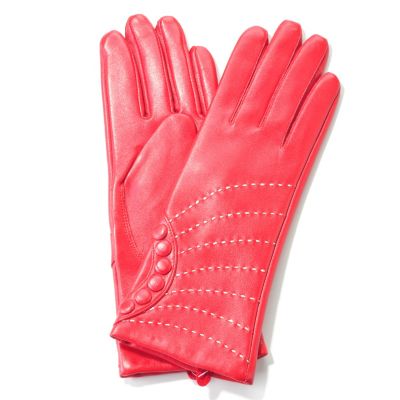 hope you guys are enjoying the rest of your summer for my Fellas in the US and Europe, and for you guys living in the southern hemisphere, let's just wish summer get here FASTER! :)
xo,
S.A
*Disclaimer: This is not a sponsored post, the companies mentioned in the post above are not paying me or giving me free stuff. All are my honest opinions about what they offer.